CFT Says Good-Bye to Milt Cox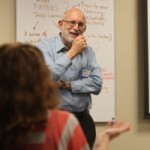 by CFT Director Derek Bruff
Late last month, the CFT said good-bye to educational consultant Milt Cox, who is moving on to consult with other colleges and universities.  Milt came on board back in August and helped us through a challenging transitional year at the CFT.  He led our Teaching-as-Research Fellows program, worked with our Junior Faculty Teaching Fellows, wrote two forthcoming teaching guides for our website, and consulted with dozens of faculty all across the campus.  I was very grateful for the wisdom and experiences he shared with my staff and me during the past year.  He's a bit of a living legend in our profession, and I'm glad I got the chance to work alongside him here at Vanderbilt.
In addition to his consulting work around the globe, Milt will continue working part-time at Miami University of Ohio, where he served as the director of their teaching center for many years.  He directs the Lilly Conference on College Teaching, which he founded, and serves as editor-in-chief for three journals, including the Journal on Excellence in College Teaching, which he also founded.
Milt's office will be filled by Cynthia Brame, our new assistant director who starts mid-July.