Gearing up For Teaching at Vanderbilt (TAV) Orientation for New Faculty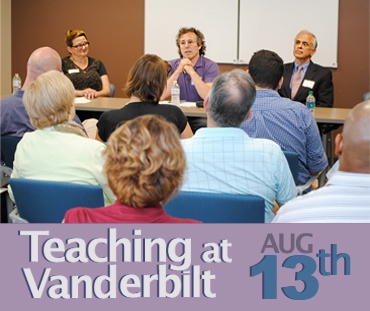 At the beginning of every academic year, the Office of the Provost and the Center for Teaching host "Teaching at Vanderbilt," an orientation for junior and senior faculty new to Vanderbilt. This year Teaching at Vanderbilt 2014 will be held
Wednesday, August 13th
Buttrick Hall, Atrium
1:30 p.m. – 5:00 p.m.
This year's program will offer a session on "Strategies for Efficient Teaching" giving participants the opportunity to attend one of three concurrent sessions specific to their teaching disciplines. All new faculty are encouraged to attend and can register at this link.
The Center for Teaching shares Vanderbilt University's commitment to excellence in teaching and learning. We honor this commitment by promoting teaching and learning as ongoing and collaborative processes of inquiry, experimentation, and reflection.