BOLD Fellows Program Helps Develop Online Instruction
Vanderbilt's Center for Teaching and the CIRTL Network (Center for the Integration of Research, Teaching, and Learning) share a mission to enhance excellence in undergraduate teaching. The CFT and CIRTL are partnering to offer the BOLD Fellows program, which is support by NSF grant DUE-1231286 to the CIRTL Network.
SPRING 2016 BOLD FELLOW TEAMS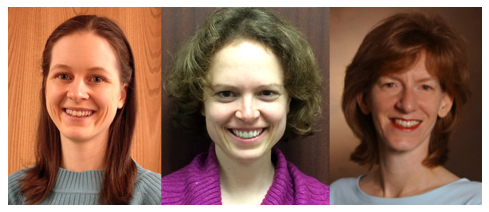 L to R:Jena McDaniel and Laurel Teller, Hearing & Speech Sciences, working with Melanie C. Schuele, Associate Professor of Hearing & Speech Sciences

L to R: Kristin Droege, Chemistry, working with Cynthia Brame, Senior Lecturer in Biological Sciences; Brandt Eichman, Associate Professor of Biological Sciences; Lauren Jackson, Assistant Professor of Biological Sciences; and Charles Singleton, Professor of Biological Sciences
The program is designed to help graduate student-faculty teams build expertise in developing online instructional modules grounded in good course design principles and our understanding of how people learn. STEM faculty members partner with graduate students or postdocs to design and develop online modules for integration into a course. The teams investigate the use of these modules, collecting data about the effectiveness of the module for promoting student learning. You can view a gallery of past BOLD projects on the BOLD website.