Junior Faculty Spotlight: Jennifer Ridgway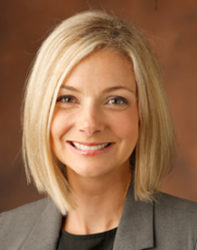 Each month, the CFT highlights the work of our Junior Faculty Teaching Fellows. This month, Jennifer Ridgway, Nursing, talks about her teaching philosophy and interests.
Engaging in the Center for Teaching's (CFT) Junior Faculty Teaching Fellowship (JFTF) has become one of the greatest growth opportunities in my professional development as faculty.  One of my primary goals in participating in this year's JFTF cohort was to gain a broader "toolbox" in order to increase student engagement. 
One of the greatest benefits of being a member of this year's JFTF cohort has been the opportunity to collaborate with colleagues. Roundtable discussions with other faculty members and the skilled experts at the CFT have shared creative ideas in order to have meaningful engagement with students.
The course that I chose to focus on for my JFTF project is a hybrid course focused on pharmacology for the pediatric nurse practitioner student.  My desire to increase engagement centered on the importance of students assimilating didactic content into clinical practice.  One of my colleagues shared an idea to have students self-record an "infogram".   The need for this assignment is based around antibiotic stewardship guidelines and opportunity for students to become more comfortable in educating caregivers concerning the reasons why antibiotics are not prescribed for viral illnesses. The objectives of the finished recording are: 1. The student will research and verbally deliver evidence-based guidelines as though education a caregiver 2. Forming effective verbal communication to facilitate patient/caregiver understanding 3. The opportunity to self and peer critique and offer feedback. 
In the future I will return to the CFT for guidance on teaching innovation and student engagement.  I have also gained a greater understanding of the importance of collaborating with faculty members.  Two, three, four, five, etc. brains are better than one.