Teaching Assistants' Roles and Responsibilities During COVID-19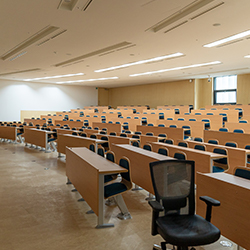 By Leah Marion Roberts, Senior Graduate Teaching Fellow, 2020-2021 and Heather N. Fedesco, Assistant Director, Center for Teaching
As new Teaching Assistant Orientation comes to an end this week, it is helpful to think through the roles and responsibilities graduate teaching assistants (TAs) may now face in their entirely online or hybrid with physical distancing courses. In many cases, instructors may need to reimagine the roles and responsibilities of teaching assistants.
This fall, many TA responsibilities will remain broadly the same. However, the online and hybrid structure may necessitate new types of work for TAs and new approaches to familiar work. We asked some Vanderbilt instructors about how they are planning to use TAs and here is a summary of their suggestions:[1]
Like in previous years, TAs will still hold office hours, however these will most likely occur virtually. In some classes, TAs will also hold virtual help sessions to prepare students for upcoming assignments.
Many TAs will be responsible for monitoring asynchronous interactions like student posts on the discussion boards or responding to student questions posted to Brightspace. For classes that have incorporated external tools like Perusall and Flipgrid, TAs will also be responsible for monitoring and responding to student posts within these websites. For more information on how to use these external tools and others, check out this resource on interactive tools from the CFT's Online Course Development Resources.
In some cases, TAs will be responsible for leading discussions via Zoom. They might need to get comfortable using breakout rooms and other techniques for leading effective synchronous discussions. In other cases, TAs will circulate through the breakout rooms to answer questions and monitor the discussions. TAs can find help using Zoom hereand here. In addition, for more guidance on leading synchronous meetings, check out this overview.
TAs might be responsible for handling some logistical elements of hybrid or online synchronous class sessions. For example, in hybrid classes, TAs may be responsible for setting up Zoom for students who cannot attend. They might also be responsible for monitoring discussions within the Zoom chat for hybrid or online synchronous meetings, or notifying instructors when students indicate they have a question with a virtual or actual raised hand.
TAs will likely help monitor student progress and help instructors flag students who are in need of additional support. This might also include providing support for students who are unable to come to class, keeping track of student accommodations necessary for the online learning environment, and adjusting deadlines on assignments for students with sanctioned absences.
Grading is a typical responsibility of TAs. Without the ability to physically collect all assignments, TAs will use various technology platforms for collecting and returning student work. This includes relying on the Assignments feature in Brightspace, where instructors can annotate document submissions, or they can download electronic files, provide comments, then upload their feedback to students all within the Assignments tool. For more information on how to provide feedback using the Assignments tool in Brightspace, check out this on-demand resource. Instructors can also use the grading feature within Turnitin on Brightspace, including the ability to upload common comments in the QuickMarks feature, which can streamline the process of having multiple graders in a course. Alternatively, instructors can use an external tool called Gradescope, which allows multiple TAs to grade the same assignment at the same time. Gradescope will be integrated within Brightspace soon. For an update on this process, you can check back here.
Not only will TAs be asked to grade online assignments, in some cases they might be asked to create those assignments. TAs who are not familiar with creating online assignments can learn more about the Assignments, and Tests and Quizzes features in Brightspace.
TAs might be asked to put finishing touches on online learning modules. This could include ensuring the course is well-organized, that instructions for asynchronous work are clear, and that the course looks visually appealing to students. For more help on the latter, TAs can review the following videos that show how to make course graphics using Word and how to find images for online courses.
For TAs who lead labs, they will have to become comfortable with a socially distanced version of lab. This typically means students will work independently or with a virtual lab partner who will Zoom into the meeting. In other cases, instead of the students doing the experiments themselves, the experiments might be done by the TA who will share the video of the experiment and/or the data that was produced. Lab sessions will then be used to discuss the experiments, have students ask questions about the experiments, and/or to run advanced data analysis using the data provided to them.
At the Center for Teaching, we encourage all instructors to communicate roles, responsibilities and expectations clearly to their TAs, as well as provide open communication channels for TAs to express their concerns and needs in these challenging times. For some TA duties, the workload may be less than normal, but in many cases, it might very well be more. To ensure a positive working relationship between the instructor of record and TA, before classes start it may be best to clarify how many hours each week the TA is expected to work, and to generate a clear plan for what to do if the workload surpasses this expectation. These open conversations will allow the instructor and TA to explicitly identify the tasks that need to be prioritized. In addition, having protocols in place in the event that the workload gets too high before the stress of the semester hits, will help maintain a positive working relationship.
For instructors who wish to learn more about working with TAs generally, check out the Center for Teaching's guide Supervisors of Teaching Assistants.
[1] Many thanks to the following individuals for providing feedback about their plans to work with TAs this Fall: Jesse Blocher, Assistant Professor of Finance; Julie Johnson, Professor of the Practice of Computer Science in Electrical Engineering and Computer Science; Neil Kelley, Assistant Professor, Earth and Environmental Sciences; Elisabeth Sandberg, Senior Lecturer, Psychology; Meredyth Wegener, Senior Lecturer, Interdisciplinary Program in Neuroscience