Meeting in Tents with Students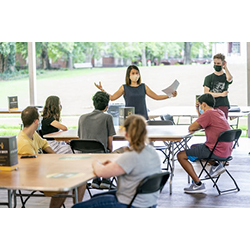 If you have been on campus lately, you may have noticed that there are more tents than one usually sees outside of Commencement week. These tents have been set up to provide more outside, socially distanced meeting space for faculty, students, and staff. Faculty and other instructors are welcome to use these tents to meet with students, perhaps holding office hours under a tent or inviting small groups of students to meet there for discussion or project work.
The usual protocols apply—stay six feet away and wear mask—but there's no reservation needed. The tents are first-come, first-serve during business hours.