Junior Faculty Spotlight: Michelle Marcus
Each year, the CFT Newsletter highlights the work of our Junior Faculty Teaching Fellows. This month, Michelle Marcus, Economics, talks about some of the lessons she has gained from the Fellowship.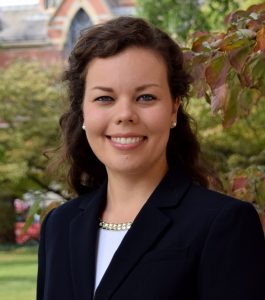 The Junior Faculty Teaching Fellows program has been an invaluable opportunity to reflect on my own teaching practices and to enhance my teaching efficiency and skills. Through teaching seminars, peer–groups, individual consultations with CFT members, classroom visits, and my own reflections on teaching, I've come to a greater appreciation of the diverse needs of my students and the ways in which I can improve accessibility to learning in my classroom. By creating clear class goals and re–designing course content and assignments towards achieving those learning goals, I can provide students with a clearer connection between class material and learning objectives.
Restructuring course content, thinking about student learning needs, and providing additional assignments designed to scaffold up student learning and build upon previous knowledge have been key components to the re-design of my course. As an example, my course includes a small group final project which is a culmination of the skills they've learned throughout the course and gives students an opportunity to apply those skills to a real-world research topic related to their own interests.To make this assessment and the goals of the project clearer, I've worked with the students to create a rubric for the final project that takes into account their own thoughts about how the project and teamwork should be assessed. To help the groups scaffold up towards the final presentation, I've introduced check-in points for different required elements of the project, such as their question of interest, background research, and their research design. This provides an additional opportunity for me to give feedback and guidance on their project and content prior to the presentation.
The JFTF program provides a great opportunity to leverage the teaching expertise of our excellent colleagues across campus and at the Center for Teaching. Through conversations with these colleagues, I have been inspired to incorporate new technology and teaching methods into my course, which has already improved student learning. In future semesters, I plan to continue these improvements in course design by flipping my classroom, which will provide more time for in class discussion, group-learning, and allowing students to make connections on their own between course material and important real-world issues. I really appreciate the opportunity to participate in the JFTF program this year and hope that other junior faculty members will take advantage of this program and all the resources available through Vanderbilt's Center for Teaching.
---
.
.
.
.
.