Junior Faculty Spotlight: Colleen Moss
Each year, the CFT blog highlights the work of our Junior Faculty Teaching Fellows. This month, Colleen Moss, School of Nursing, talks about some of the lessons she has gained from the Fellowship.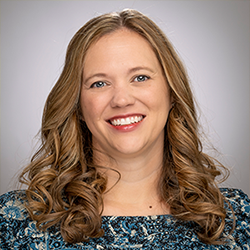 As an early career faculty member, the learning curve is steep. There are many facets to consider when revising or redesigning a course. The Junior Faculty Teaching Fellowship helped me focus on small changes I can make in the classroom that have a positive impact on students. We started the fall semester by looking at 7 concepts related to teaching. Our CFT expert (Julaine Fowlin) challenged us to consider what we thought was most relevant, and what we wanted to further explore to grow in our faculty roles. We read materials that correspond to the principles for effective teaching. My favorite parts of the first semester of JFTF were the in-classroom visits. I feel fortunate that we are able to meet in-person, and I observed both experienced and novice faculty teach in the classroom. It is fascinating to see the different teaching styles and how faculty incorporate techniques to support their students' academic success.  
Our CFT cohort spent time considering active learning strategies, including gamification (Top Hat) and the flipped classroom. I learned about giving effective feedback during group work in the classroom. One of the best pieces of advice I heard was from Ransford Pinto. He tells his students, "I won't interrupt you, but I will stop by your table and may ask you questions." This was a great statement because Dr. Pinto conveyed that he wants to hear the students' discussion and keep students engaged during group work in the classroom. 
The structure of JFTF allowed me the time and space to consider my course assessments. One concept we discussed is transparent assignment design. I looked at the 3 components of an existing assignment: purpose, task, and criteria for success. I redesigned one of the assignments to better align with the course objectives and created a new rubric for the assignment. In this course, students previously wrote a paper and presented a brief version of the topic to the class. The redesigned assignment allows students to work individually or in a group to create a poster of a controversial neonatal care issue. Students have an opportunity to present their work at a virtual poster presentation event in the course. This practice allows students to receive faculty and peer feedback and gain confidence. Students will apply to present the poster at a future nursing conference, allowing students to develop mastery of the topic and experience professional growth.  
I encourage new faculty to apply to JFTF because it has been an amazing experience as an early career faculty member. I am thankful for the opportunity to participate in JFTF and value the friendships in my cohort as well as the support and resources I received from Vanderbilt's Center for Teaching. 
---
.
.
.
.
.