JFTF Spotlight on Simone Stirmer
Throughout the year, the CFT highlights the work of their Junior Faculty Teaching Fellows. This month, Simone Stirner shares about her work as a Fellow.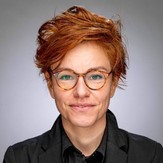 The JFTF has been a great opportunity to reflect on teaching in collaboration with CfT faculty and other junior colleagues on campus and learn from each other in a supportive environment. The intensive seminar discussions and dinners often inspired me to take ideas for lesson design or classroom exercises right into my classroom in the following week.
I was grateful for the opportunity to work on syllabus design by developing a popular unit from my German-language senior seminar on "Pop and Protest" into a full English-language course on Queer German Literature and Media. The course focuses on the relation between artistic representations of LGBTIQ+ experiences and political, legal, and social contexts in Germany and Europe, and I came in with a long list of potential readings, viewings, and assignments for the class. Through the individual consultations with Julaine Fowlin, I was able to streamline the course and implement backward design to structure the units around clear learning objectives.
In weekly meetings, my cohort also took seriously my goal to enable students to find their own voice in relation to German literature, language, and culture and helped me develop class projects that center storytelling as analytical intervention and creative expression. In the past, I often figured out questions that came up about teaching on my own. Through the JFTF, I was able to see that others share this experience and be part of a community that is eager to think, strategize, brainstorm and collaborate together.