JFTF Spotlight on Danyelle Valentine
Throughout the year, the CFT highlights the work of their Junior Faculty Teaching Fellows. This month, Danyelle Valentine shares about her work as a Fellow.
---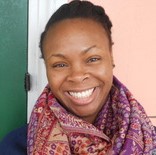 I am a Senior Lecturer in both American Studies and Gender and Sexuality Studies. My research interests explore histories of resistance to bondage, migration, and freedom throughout the Black Atlantic. My current monograph chronicles the military tactics deployed by the British Royal Army after the Revolutionary War that facilitated the migration of free people of color to Trinidad and British Guiana in the years leading up to the American Civil War.
While my research is centered on histories of migration, transnationalism, and gendered labor, I deploy an intersectional approach to understanding historical contexts – and –social constructs that serve to advantage and disadvantage groups of people. Through my classes on Womanism and Gold, God, and Glory, I strive to bring the voices and experiences of marginalized people to the forefront – by placing historical critiques in conversation with broader cultural commonalities.
Students who arrive in both of my Gender and American Studies classes have different levels of experience. I provide them with the content and a lens of historical legacies to recognize patterns of the past – to patterns in the present. Through JFTF, I am refining my pedagogical approaches for achieving transformational learning through historical and sociological frameworks. In turn, I use evidence-based structured analyses to process and evaluate change over time. And by fostering a safe learning environment that challenges students to decenter their own personal perspectives, students are better positioned to critically self-reflect and consider diverse perspectives and identities.