Episode 23 – John C. Ayers on Sustainability Course Design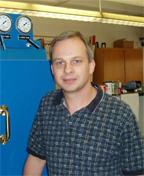 In this episode, we feature John Ayers from the Department of Earth and Environmental Sciences. We join the discussion as he begins the discussion about the design and development of his sustainability course. He talks about student projects, gives examples of the topic areas the course includes, and suggests ways to present the facts in a manner that lets students draw their own conclusions, teaching them how to think, rather than what to think. View John Ayers' PowerPoint presentation from this event.
http://cft.vanderbilt.edu/wp-content/uploads/sites/59/cftpodcast/ep23.mp3 [MP3, 9 min 59 sec]
Visit John Ayers' website to learn more about his teaching and research interests. John is currently writing a book titled "Sustainable Living: Reducing Risk in a World of Declining Resources". You can view first drafts of chapters on his blog.
Please take a minute or two to leave a comment here and share your thoughts about teaching challenging topics. Vanderbilt instructors are also welcome to call the Center for Teaching at 615-322-7290 to arrange a meeting with a CFT teaching consultant. We're glad to help you reflect on and explore the various choices you make as a teacher and to connect you with resources you'll find useful as you design, implement, and assess learning experiences for your students.