CFT Annual Report Available Online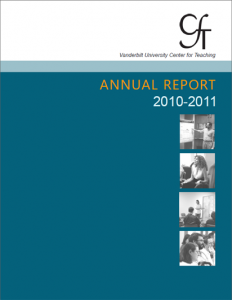 The CFT's 2010-11 annual report is available for viewing or downloading online.
The report includes a summary of the Center's impact, activities, and programs including highlights on public scholarship, creative pedagogies, and the annual celebration of teaching. This report demonstrates the many ways the Center's mission to foster and sustain a culture that practices, values, and rewards university teaching and learning as vital forms of scholarship has been fulfilled in the 2010-11 academic year.
More about the annual report and a sample of sections, including the highlights and workshops & events are available on the CFT's Annual Report page. Annual reports from previous academic years are also available.