Why Work for us as a Graduate Student: Work Environment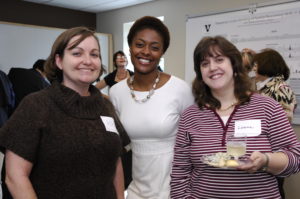 Each spring the Center for Teaching (CFT) recruits graduate students and post-docs to work at the Center for the following school year. These positions are great opportunities for graduate students to refine their teaching and presentation skills, network with graduate students outside of their department or program, and develop expertise in training and supporting new TAs.  Every year, our Teaching Affiliates and GTFs tell us how much they enjoyed and benefitted from their experience working at the CFT.
One reason that is often cited is the friendly, supportive work environment at the CFT.
The Graduate Teaching Fellows and Teaching Affiliates work closely together, often forming strong bonds (and friendships) that extend beyond their training period.


"The community you become involved in is full of engaged and exciting individuals who have a wonderful energy and enthusiasm about teaching. You get a year to share, collaborate and come to grips with who you are as a teacher in an environment where teaching is highly valued. The friendships you form are long lasting and the moments of spontaneous laughter and camaraderie you share will be recalled with fondness in the years ahead." (Mark Barr, Assistant Professor of English, Saint Mary's University, MTF 2002-03)
The GTFs (who work with one another throughout the academic year) have many opportunities to be a part of a community of scholars as they lead or participate in working groups, and as they work together with senior members of the CFT staff.


"I had the privilege to be part of a strong community of graduate fellows that contributed in my personal growth as an individual and as a scholar. Our dialogues, interactions, and even our disagreements, made me observe points of views from different angles and perspectives contributing to a positive exchange of ideas and information. As a result, these interactions have been a fundamental aspect in my intellectual and professional growth." (Martha Garcia, Associate Professor, University of Central Florida, MTF 2002-03)
Working at the CFT provides a glimpse into an 'alternative' academic career.
"Questions about my MTF work typically came up in interviews, so I think that it did have an impact on getting the kind of position I wanted.  Being an MTF also helped me decide to pursue a position involving administration and teaching that would allow me to work closely with other professors.  I would strongly recommend the experience to graduate students in all fields because it will definitely develop marketable new skills, and it may open up thinking about what kind of position to seek." (Laura Patterson, Associate Professor of English and Director of Undergraduate Writing Programs, Seton Hill, MTF 2000-01) "Having the opportunity to focus on and talk about teaching and best practices and become familiar with the literature on the scholarship of teaching and learning is an invaluable experience for any future educator.  For students interested in going into academia, but not traditional tenure-track positions, it also gives you experience with an alternate academic position. (Lily Claiborne, Senior Lecturer, Earth & Environmental Science, Vanderbilt University, GTF 2010-11)
The CFT has two types of positions available for graduate students:
Graduate Teaching Fellows (GTFs) are employed for the entire academic year, engage in a variety of CFT activities around training and supporting teaching assistants across the university, and are paid $20,000 for the year.
Teaching Affiliates prepare and lead sessions at our annual Teaching Assistant Orientation in August, working about 80 hours total (mostly in August), and are paid $1000.
Complete information about these positions and the application process can be found here. Applications are dueFriday, March 2nd. Interested applicants are encouraged to come to one of our drop-in information sessions: Wednesday, February 1, 3:00-5:00pm or Friday, February 10, 9:00-11:00am to meet current GTFs and Teaching Affiliates and CFT staff and ask questions about these positions.
(Note: In December 2011, the CFT invited former graduate student employees share their reflections on their positions with the CFT. Above are some of their unedited comments made about working at the CFT as a Master Teaching Fellow, a Graduate Teaching Fellow or a Teaching Affiliate.)