Episode 31 – Student Learning on Display: Eliciting Positive Emotions Using Film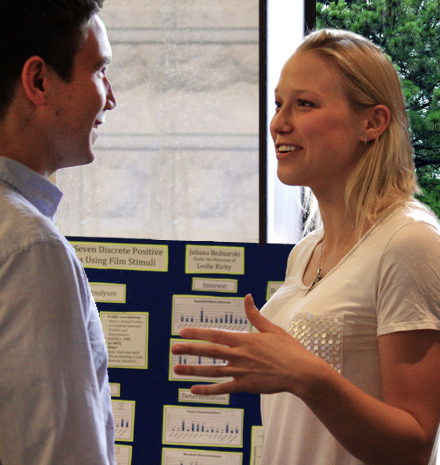 In an effort to better understand student learning, particularly deep learning, as it occurs at Vanderbilt, the CFT is producing a special series of podcasts highlighting student projects across a variety of disciplines.
In this episode we join CFT Director Derek Bruff as he reports on-location from the "Psychology Day" poster session where psychology honors students present their senior theses. Derek interviews graduating senior Juliana Bednarski, a psychology and philosophy major, about her project detailing the use of film clips to elicit discrete positive emotions. Juliana (seen in the photo here) describes her project, as well as ways that her research drew on her other learning experiences at Vanderbilt and prepared her for a career in clinical psychology. Read Juliana's thesis.
http://cft.vanderbilt.edu/wp-content/uploads/sites/59/cftpodcast/ep31_Bednarski.mp3 [MP3, 11 min 10 sec]
For more perspectives on undergraduate research, see our teaching guide about one-on-one teaching and independent studies. Our guide on mentoring graduate students has advice relevant to supervising undergraduate research, too. In her interview, Juliana mentioned VUSRP, the Vanderbilt Undergraduate Summer Research Program, which provides support to students engaging in research with Vanderbilt faculty.
Finally, be sure to listen to the prior episode in our "Student Learning on Display" podcast series, one featuring a team of engineering students who developed spinach-powered solar cells.