From the Stacks…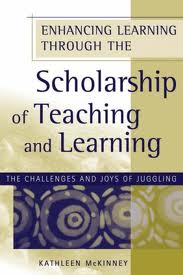 Enhancing Learning Through the Scholarship of Teaching and Learning: The Challenges and Joys of Juggling
by Kathleen McKinney
Read a review of this book by CFT Assistant Director Nancy Chick
From the publisher…
There has been growing demand for workshops and materials to help those in higher education conduct and use the scholarship of teaching and learning. This book offers advice on how to do, share, and apply SoTL work to improve student learning and development.
Written for college-level faculty members as well as faculty developers, administrators, academic staff, and graduate students, this book will also help undergraduate students collaborating with faculty on SoTL projects. Though targeted at those new to the field of SoTL, more seasoned SoTL researchers and those attempting to support SoTL efforts will find the book valuable. It can be used as an individual reading, a shared reading in SoTL writing circles, a resource in workshops on SoTL, and a text in seminars on teaching.
Available in the Center for Teaching library.