Episode 32 – Student Learning on Display: Art and Portable Media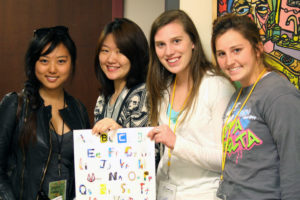 In an effort to better understand student learning, particularly deep learning, as it occurs at Vanderbilt, the CFT is producing a special series of podcasts highlighting student projects across a variety of disciplines.
In this episode we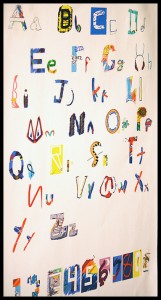 join CFT Director Derek Bruff as he reports on-location from the Curb Creative Campus Catalyst Event. Vanderbilt students Julie Choi, Yeon-Sil Yi, Grace Burnworth, and CJ Rhoades (all pictured here) participated in Amelia Winger-Bearskin's spring 2012 course, "Portable Media and the Art of the Cell Phone." Students in this course collected art samples from students around campus through an off-the-shelf iPad drawing app, then turned that student artwork into a unique font.
http://cft.vanderbilt.edu/wp-content/uploads/sites/59/cftpodcast/ep32_font.mp3 [MP3, 7 min 16 sec]
Be sure to listen to these prior episodes in our "Student Learning on Display" podcast series: