Episode 35 – Student Learning on Display: Electrocardiogram Chair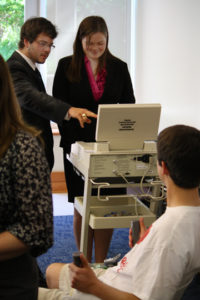 In an effort to better understand student learning, particularly deep learning, as it occurs at Vanderbilt, the CFT is producing a special series of podcasts highlighting student projects across a variety of disciplines.
In this episode, CFT director, Derek Bruff, attends a poster session where he talks with Hannah Pauly and Corey Peak, two members of a team that designed a chair for health clinics in low-resource areas that can screen patients for common cardiomyopathies.  This innovative design reduces the complex and data-intensive 10-electrode ECG to an intuitive electrocardiogram chair with an an electrode on each armrest.
Stephen Hollabaugh and Catherine Majors were also part of the project team. Read more about this and other School of Engineering design projects.
http://cft.vanderbilt.edu/wp-content/uploads/sites/59/cftpodcast/ep35_chair.mp3 [MP3, 9 min 41 sec]
Listen to previous "Student Learning on Display" podcasts: