Meet CFT Graduate Teaching Fellow Beth Koontz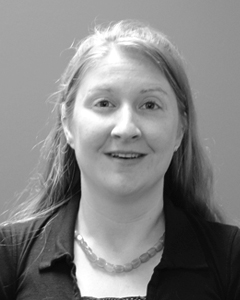 Over the next few weeks, we will introduce the CFT's 2012-13 Graduate Teaching Fellows* individually to highlight their areas of expertise, interests, and specific CFT activities.
Beth Koontz is a Ph.D. student in Anthropology, focusing on Andean bioarchaeology and the role of violence in state formation and collapse. Although TAs in Anthropology primarily hold office hours and grade assignments, Beth brings to the position a variety of rich teaching experiences she's gained in other places:  she has taught the law to judges and juries when she was an Assistant District Attorney in Durham, NC; she has taught U.S. law enforcement officials and Peruvian and U.S. students how to excavate human remains; and she has taught a variety of law and anthropology courses to high school students–face to face and online.  She also brings a wealth of CFT experience as a recent recipient of the Teaching Certificate and a participant in a variety of CFT workshops and consultation activities.
Beth's teaching interests include field schools and experiential learning, concept mapping, and the Socratic method.  In addition to holding regular office hours for consultations with graduate students, Beth is facilitating a variety of CFT activities. This fall, she will be leading a section of the new Certificate in College Teaching (Session Two) and collaborating with CFT Assistant Director Nancy Chick in the September 13 Teaching Workshop for both faculty and graduate students entitled "Strategies for Grading," an effective contributor to the planning and facilitation of this workshop in part because of the Anthropology Department's emphasis on this role for TAs. (For this workshop, Beth also compiled a page of follow-up resources for participants.)  She will also be contributing to at least two CFT blog series, "See What I Mean" and "Teaching Outside the Classroom."  She will also lead the planning of GradSTEP (a day-long January event offering several workshops and discussions on teaching, learning, and professional development across the disciplines) and will work with her fellow GTFs on subsequent workshops and other projects that emerge throughout the year.
*  GTFs provide a variety of services for Vanderbilt's graduate, post doc and professional students, including one-on-one consultations on teaching issues and professional development, syllabus and course design, interpreting and responding to student evaluations, writing teaching statements, and engaging techniques such as discussion leading, lecturing, and using technology in the classroom.They also create and facilitate Teaching Assistant Orientation, Teaching Workshops, and the annual Graduate Student Teaching Event for Professional Development (GradSTEP) conference. In addition, they support the Certificate in College Teaching and various CFT initiatives.
To schedule an appointment with Beth or any other GTF, please call 322-7290.