Episode 38 – Student Learning on Display: Pump Up the Volume – Vandy Vinyl
In this episode, CFT director, Derek Bruff, talks with Curb Scholars Branden Sanders, Keith Berquist, Daniel Eubanks, Harrison Shapley, and audio engineer, Scott Marquart about their Curb Creative Campus project where they developed a high-quality production studio to record independent projects of Vanderbilt faculty, staff, and students.  The studio is the centerpiece of a larger legacy project focused on aspects of artist development, including the launch of a Vanderbilt Songwriting Club.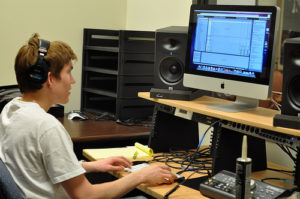 http://cft.vanderbilt.edu/wp-content/uploads/sites/59/cftpodcast/ep38_studio.mp3
[MP3, 10 min 29 sec]
To better understand student learning, particularly deep learning, as it occurs at Vanderbilt, the CFT is producing this special series of podcasts highlighting student projects across a variety of disciplines.
Listen to previous "Student Learning on Display" podcasts: