Meet CFT Graduate Teaching Fellow Adam Wilsman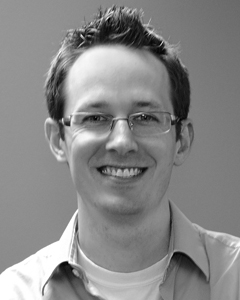 This fall, we're introducing the CFT's 2012-13 Graduate Teaching Fellows* individually to highlight their areas of expertise, interests, and specific CFT activities.
Adam Wilsman is a Ph.D. student in History.  His dissertation, entitled "Our Enemy's Enemy: Human Rights and the U.S. Intervention in El Salvador, 1977-1992," is currently in progress.  Adam has TA'd a wide variety of courses, including "World War II," "The U.S. and the Cold War," and "U.S. History 1877-1945."  He received his B.A. in history from Binghamton University in 2006.
Early this fall, Adam served as an instructor for Teaching Assistant Orientation (TAO), designing and teaching the session for new Psychology TAs.  He is also teaching a section of the Certificate in College Teaching seminar and is working closely with CFT Assistant Director Nancy Chick in co-teaching the new SoTL (Scholarship of Teaching and Learning Scholars) Scholars Program.  In addition, Adam is assisting CFT Assistant Director Joe Bandy and the Alliance for Community Engagement as that group seeks to build institutional support for community engagement at Vanderbilt.  Adam also led the "Making the Most of Office Hours" workshop and has served as a contributing blogger for the CFT's "Professor Pedagogy" blog.  In the spring, he will work with his fellow GTFs in planning GradSTEP (a day-long January event offering several workshops and discussions on teaching, learning, and professional development across the disciplines), as well as subsequent workshops and other projects that emerge throughout the year.
*  GTFs provide a variety of services for Vanderbilt's graduate, post doc and professional students, including one-on-one consultations on teaching issues and professional development, syllabus and course design, interpreting and responding to student evaluations, writing teaching statements, and engaging techniques such as discussion leading, lecturing, and using technology in the classroom.They also create and facilitate Teaching Assistant Orientation, Teaching Workshops, and the annual Graduate Student Teaching Event for Professional Development (GradSTEP) conference. In addition, they support the Certificate in College Teaching and various CFT initiatives.
To schedule an appointment with Adam or any other GTF, please call 322-7290.