Episode 39 – Student Learning on Display: Vanderbilt Theater from 1940s to 1960s
In this episode, CFT director, Derek Bruff, attends a student poster session where he talks with Vanderbilt student Sam Mallick about how he spent the summer exploring the university's collection of papers from Joseph E. Wright's tenure as director of the Vanderbilt Theatre. Sam participated in the Vanderbilt Undergraduate Summer Research Program (VUSRP).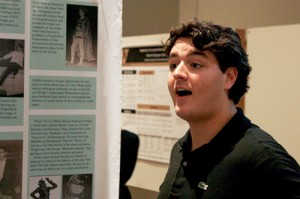 http://cft.vanderbilt.edu/wp-content/uploads/sites/59/cftpodcast/ep41_axle2.mp3
[MP3, 9 min 46 sec]
To better understand student learning, particularly deep learning, as it occurs at Vanderbilt, the CFT is producing this special series of podcasts highlighting student projects across a variety of disciplines.
Listen to previous "Student Learning on Display" podcasts: