A (New) Plan for Lesson Planning
by Nancy Chick, CFT Assistant Director
I've been teaching my own courses since 1993, and I still experiment with how to manage my notes, preparations, To Do lists, readings, and lesson plans–not because I'm adventurous but because I'm dissatisfied. A Goldilocks of office and organizational supplies, I've rejected previous attempts as "too big," "too messy," "too hard to archive," or "too disorganized." I've cycled through file folders, accordion folders, accordion files, three-ring binders, boxes, and a stack or three on the corner of my desk. I just asked friends for their strategies, and a surprising number rely on the cloud (e.g., Dropbox, Google Drive) and a paperless teaching practice. I'm no Luddite, and my handwriting is a mess, but I'm pretty grounded in the physical, and I still do most of my teaching preparations manually, rather than digitally.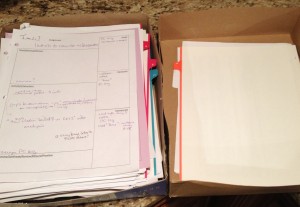 In preparing for my spring WGS 200, I've finished the syllabus, organized all of the readings, collected relevant notes from previous courses, and designed a new template for organizing the individual class meetings–made in Word, printed out for handwritten preps. Everything is in chronological order with each class meeting separated by dividers, all in an old manila-folder box. (See picture to the left.) I was ready to go granular and start working on individual assignments and daily activities.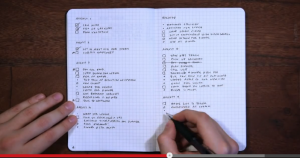 And then, I stumbled onto bullet journals, a specific way of organizing tasks, lists, ideas, and notes in a single notebook with an intuitive method called "rapid logging." Developer Ryder Carroll describes it as "an analog system for the digital age that will help you organize the present, record the past, and plan for the future." (Click Carroll's 2:51 introductory video to the right.) 
I immediately thought of adaptations to course planning. I save my notes and plans for my courses, but they're packed into big, messy folders in filing boxes. A compact notebook will be much easier to archive, not to mention carry with me across campus. I played around with the idea and then made a mock-up in a little notebook to see how it felt. (See my 0:38 video below.) Classes haven't yet started, but so far, I like it. Revising Carroll's generic calendars, task lists, events, and notes, I'll capture the following:
a legend for my bullet codes (preparations, readings, notes, assignments, activities, research, handouts, homework),

a table of contents,

final preps for the semester,

Mock-up of course planning bullet journal

a seating chart,

the highlights of my syllabus's schedule by month,

goals and tasks for that month,

a spread of two pages for each class session (left side for preps and order of activities, right side for notes, questions, follow-up tasks, reflections)


a spread for wrap-up and more reflection at the end of each month.
Now, I need to dig through my collection of notebooks and journals to pick the one that's "just right."