Reflections from the CIRTL Forum
by Cynthia Brame, CFT Assistant Director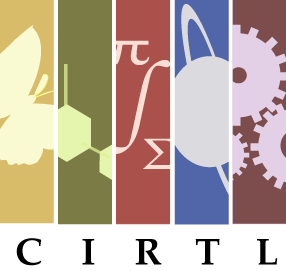 I just got back from the CIRTL Forum in College Station, TX. (CIRTL is the Center for the Integration of Research,Teaching and Learning.) What a great trip! The Forum's title was "Preparing the Future STEM Faculty for the Rapidly Changing Landscape of Higher Education," and we had a collection of really good minds focusing on this knotty problem. We also saw some of the ways that CIRTL and its partners are attacking the problem now, by helping graduate students and post-docs develop the tools they need to be adaptable, reflective professionals.
Randy Bass, Vice Provost for Education at Georgetown University, kicked off the conversation with a challenge to reinvent the curriculum to help students develop the skills to solve unstructured problems while working with new and complex information. He predicts that online learning and learning analytics will allow students to receive online, personalized instruction on what we currently consider the "core" curriculum—for instance, our AXLE requirements in Vanderbilt's College of Arts and Science—virtually anywhere, leaving the real task of the university as helping students develop the ability to grapple with messy problems through mentored, structured learning experiences that help students develop. (Want to know more? View Randy's presentation slides.  He also talked about similar ideas at Vanderbilt last year during the Celebration of Learning).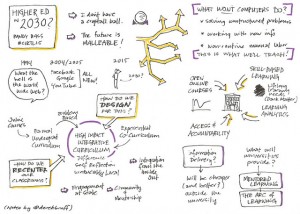 Benjamin Flores, Professor of Electrical and Computer Engineering at the University of Texas at El Paso, then threw a monkey wrench into this already-complicated picture, reminding us that students are adopting a "subway" model of education, in which they hop on and off at multiple points, with multiple destinations and lengths of engagement. View Flores's presentation slides.
George Siemens, Executive Director of the LINK Research Lab at the University of Texas, Arlington, echoed several of Bass's and Flores's points. He talked about the unbundling of a college education, made attractive by our changing demographics and made possible by data analytics and educational technology—but challenged us to think about how to create educational technologies that adopt information architectures that express the best parts of the academy: open, distributed, generative, and adaptive. View Siemens's presentation slides. For me, George's talk was among the most challenging and thought-provoking that I've heard, and not solely because George talks really, really, really fast.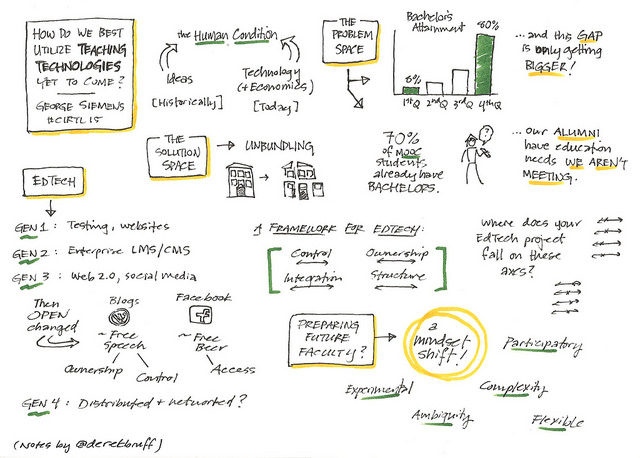 These talks were interspersed with some great panelist presentations (shout out to Katie Kearns—powerful plea for us to remember the importance of identity in helping our grad students develop and to Emilianne McCranie for telling us about her journey to prepare herself for this changing landscape) and small group discussions, but to me, the best "answer" that emerged from the conference was at the Teaching-as-Research poster session. Teaching-as-Research (TAR) is one of the pillars of CIRTL.
In essence, TAR is similar to both the scholarship of teaching and learning (SoTL) and to discipline-based education research (DBER): it involves an investigation of student learning in a particular context, typically an undergraduate STEM classroom. At the poster session, about 80 graduate students and post-docs presented their projects investigating some aspect of student learning.
Why do I identify this as an "answer" to these grand challenges? Because the heart of preparing future faculty for a rapidly changing future is adaptability—the ability to ask questions, try things, and respond to new information. TAR projects provide exactly the kind of training that helps graduate students develop these skills.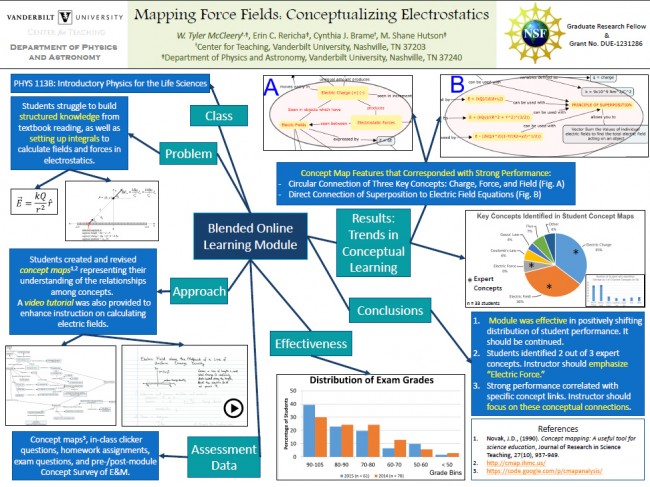 For example, Vanderbilt graduate student Ty McCleery worked with physics professors Shane Hutson and Erin Rericha to develop online learning materials to help undergraduate physics students better understand one of the concepts that they find particularly challenging. They found that that new instruction did appear to help students' learning—but they were also able to use the information they gained to identify points that remained "sticky," pointing them to areas of future improvement.
View the PDF of the poster.
In another example, Vanderbilt graduate student Dave Caudel took on the challenge of teaching novices how to navigate with celestial bodies, working with physics and astronomy faculty members Susan Stewart and Erika Grundstrom. They developed a full website, including multiple videos and formative assessment tools, and asked whether the website could teach undergraduates how to locate themselves using celestial bodies in a two-hour time frame—and if so, what parts of the online materials were most valuable.
View the PDF of the poster.
So, I think we have a lot more work to do to meet the grand challenges that were posed at the conference—but I think that the teaching-as-research process that is at the core of CIRTL is a good way to help graduate students develop the adaptability and reflectiveness they will need in this environment.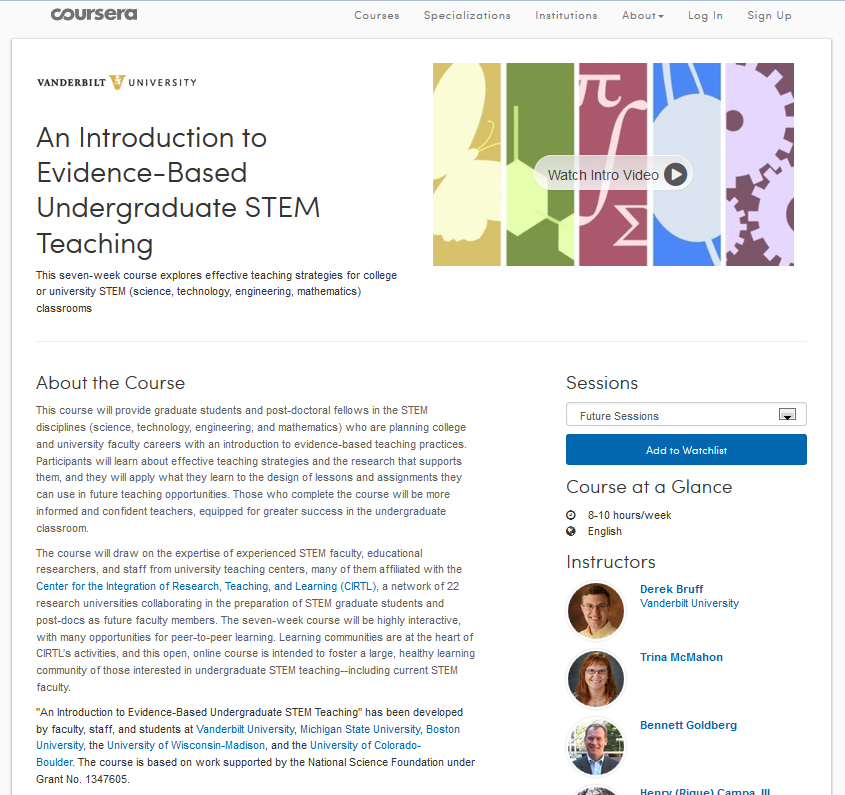 To help disseminate this key idea to a bigger audience, CIRTL is developing two MOOCs that will launch on Coursera this fall. The first is a rejiggering of the Introduction to Evidence-Based Undergraduate STEM Teaching that was run in Fall 2014, adapted to be shorter and more focused. The second MOOC, however, will focus on teaching-as-research, and will provide information about how to do and how to support these kinds of projects. Rique Campa, Michigan State University, worked with Vanderbilt's Lauren Campbell, Aidan Hoyal, and Jeff Shoup to get some great footage of graduate student TAR investigators and their faculty mentors. Be on the lookout for this course!