Getting Started with Active Learning: Behind-the-scenes Development of a Cheat Sheet
by Greg Smith, CFT Graduate Teaching Fellow

This year, I helped lead a learning community focused on active learning. Together, Cynthia Brame and I guided a group of about 25 faculty and graduate students through seven sessions to investigate the "why" and "how" of active learning.
As our meetings progressed, we started thinking about how to record and share the knowledge of the community. Could we create a "cheat sheet" that group members could take with them, both as a reminder in their own practice and a tool to facilitate conversations with colleagues? We decided to give it a shot.
During our next-to-last meeting, we asked participants to respond individually to a few questions, such as "What do you think the first three steps are for planning an active learning exercise for a class session?" and "What are logistical pieces to keep in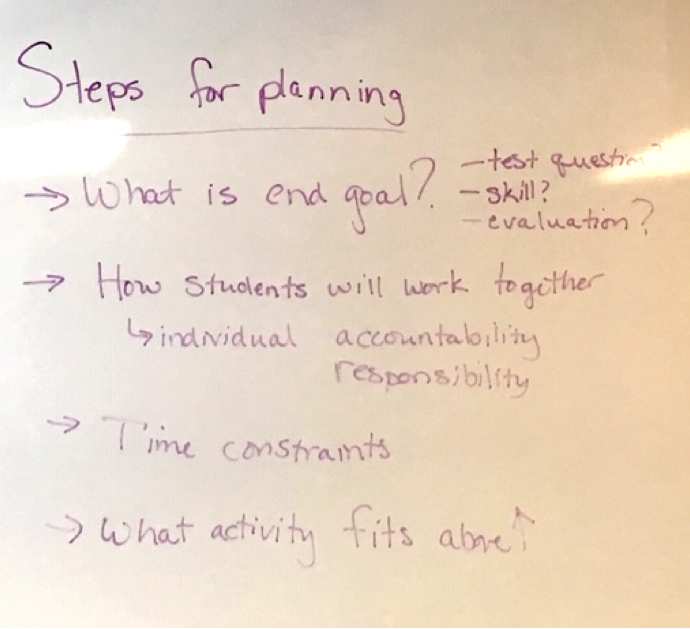 mind when you implement the exercise/activity?" We then asked participants to work in small groups to further develop their answers to these questions, producing some awesome and varied responses (see the photos for examples).
Cynthia and I compiled the responses, identifying ten distinct steps plus some pitfalls to avoid. We shared the list with the group and asked for additional input.
At this point, we knew we had great content, but we really weren't sure what the cheat sheet should look like. The group told us that for it to be valuable, it had to be visually appealing and short—I mean, it is a cheat sheet, after all! We played various ideas, including an outline, a flowchart, and a learning cycle—the last idea meant to showcase the wash-rinse-repeat style of using active learning.
It just so happened that at the time we were finalizing plans for our last meeting, I was also preparing to defend my dissertation. My PhD work required extensive use of the R statistical software language, and I found myself consulting two very useful "cheat sheets" on coding with some R packages (ggplot2 and dplyr/tidyr). It clicked with me that the format of these guides was visually appealing while being immensely useful—exactly the qualities we wanted for our own cheat sheet. I sketched out the concept and then went home and mocked up a version in Adobe Illustrator.
| | |
| --- | --- |
| | |
Rhett McDaniel, CFT educational technologist and graphic designer extraordinaire, took my draft and put together an informative, visually appealing guide that we and the learning community love. The guide is simple and useful enough to be handed to your colleagues during a faculty meeting, but can also be a starting point for anyone ready to dive into the active learning literature. I particularly love that it is filled with sage advice from our experienced LC faculty and graduate students to help sidestep many of the pitfalls that can occur. Enjoy! We hope you find the cheat sheet and the process we used to create it useful.
---