Teaching Digital Literacies: Six Conversations
by Derek Bruff, CFT Director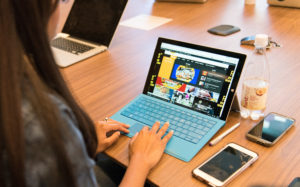 How can we prepare students for a world where they both consume and produce media in a variety of digital forms? In 2018-2019, the CFT hosted a learning community for educators interested in exploring ways to teach digital literacies, that is, the skills and competences students need to thoughtfully learn, participate in, and contribute to our digital and multimedia culture.
Through a series of panel conversations featuring 17 faculty and staff from around campus, the learning community discussed critical media literacy, multimodal assignments, online communities, teaching collaborations, and universal design for learning. Thanks to our panelists for sharing their experiences and insights.
Below you'll find links to summaries of this six conversations written by CFT graduate teaching fellow Chelsea Yarborough. Each summary features highlights of the conversations, including takeaways for instructors interested in teaching digital literacies.
The sixth and final panel was a wide-ranging and highly speculative discussion of the future of digital literacies. You can listen to that panel on Episode 60 of the CFT's educational technology podcast, Leading Lines.
Vanderbilt instructors interested in teaching digital literacies are welcome to schedule a consultation with me or with any of our teaching consultants. Call or email to set up an appointment.