CFT Thanks Our Teaching Affiliates!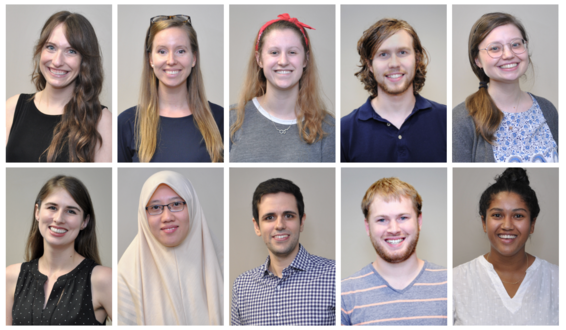 L to R: Amanda Brockman (Sociology), Laura Carter-Stone (Teaching & Learning), Emma Guiberson (Chemistry), Ethan Joll (Biomedical Engineering), Cait Kirby (Biological Sciences), Kelley Knowles (Psychology), Nazirah Mohd Khairi (Electrical Engineering and Computer Science), Jose Luis de Ramon Ruiz (Spanish and Portuguese), Aaron Stevens (Physics and Astronomy), Nadejda Webb (English)
---
Every August, the Center for Teaching offers Teaching Assistant Orientation (TAO) to all new TAs as a way to learn about TA duties, policies and resources, best practices in teaching, and to come away with some useful tools for immediate use in the classroom.
We wouldn't be able to make this happen without our wonderful cohort of Teaching Affiliates, who come from all over campus to lead our breakout disciplinary sessions at TAO.  We'd like to thank them for all of their hard work with TAO this year.
Thank you, CFT Teaching Affiliates!
.
.
---