Is Your Gradebook Ready for the End of the Semester?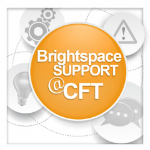 The end of the semester is coming up quickly! Is your Brightspace gradebook set up correctly?
While you are certainly not required to use the Brightspace Grades tool to track your students' grades, it can be a big help. Especially if you are using Brightspace to collect assignments or giving quizzes and exams.
Tips for Success:
Make sure every graded item is linked to the gradebook.
What does this mean? If you are grading assignments or using the quiz tool in Brightspace, you'll want to make sure that grade information is transferring correctly into the gradebook. Here are some guides to help you link an assignment or quiz to the gradebook:
» How do I associate an assignment with a grade item?
» How do I associate my quiz to a Grade Item in my Gradebook?
Go through the Grade Setup Wizard
It's never too late to go through the grade Setup Wizard to make sure all your gradebook settings are correct. Perhaps the most important decision when doing this is whether your gradebook will be based on points, or if it is weighted. Many instructors use a weighted gradebook based on percentages which will affect the final grade. If you would like help setting up your weighted gradebook, we are happy to assist you! We have guides to help you get started, and encourage you to reach out with additional questions.
» Getting Started: How do I set up my gradebook? 
» Example of a Weighted Grade Book
Understand what your students are seeing
Even though the grades may be displaying correctly to you, they may look different from the student's view. Here are a couple things that will help ensure they are seeing what you intend.
The Class Progress tab – Visit the class progress tab at any time to see what the student's view of their grades is. You may discover that they are seeing a percentage grade, when you would like them to see points (or vice versa). This is the best place to check when students come to you with questions about what they are seeing.
Managing View vs. Student View – There are multiple places where you'll see Brightspace mention a Managing or Student View of the grades. Be sure to select the appropriate items by checking/unchecking boxes. Here is a quick description of the different views available:

Points Grade – displays the point value of their score. Ex. 83/100
Weighted Grade – displays the score as a percentage. Ex. 83%
Grade Scheme Symbol – displays a symbol (letter grade) Ex. B- (Note: You must have set up a grade scheme in order for this to work. How do I set up grade schemes?)
Grade Scheme Color – The grade will have a shaded background color or font that varies according to grade. Ex. An A has a green background, an F has a red background.
Turning in Final Grades
Brightspace will not automatically synchronize the gradebook with YES. It is your duty to do this manually. If you have a small class, you may want to do this by hand. If you have a larger class, you can export the gradebook into an excel file and use the Final Grade column.
» How do I Export my Gradebook into Excel?
Lastly, here are two more helpful link as you wrap up the semester. Brightspace does not always automatically release a final grade to students, so you will need to know how to do this. There are also situations where you might want to exclude something from the final grade. This is an easy fix as explained in the guide below.
» How do I release final grades to students?
» How do I exclude a grade category or item from the final grade calculation?
Contact Brightspace Support
Please reach out to our team whenever you have a question – no matter how big or small. We are always glad to help!
Our support hours are:
Monday – Thursday 7am – 11pm
Friday 7am – 5pm
Sunday 5pm – 11pm.