Adaptive Teaching at Vanderbilt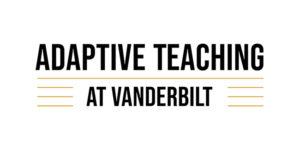 During the university's June 24th faculty town hall, CFT director Derek Bruff presented several strategies for adaptive teaching and active learning that faculty and other instructors might find useful as they plan their fall courses.
While some instructors will be teaching fully online this fall, others may find themselves teaching in classrooms where some students are present but physically distanced and masked, while other students participate via videoconference. This makes for a challenging teaching environment, but CFT staff have outlined some ways to foster active learning and student engagement in this kind of hybrid classroom. 
To learn more, read Derek's blog post "Active Learning in Hybrid and Physically Distanced Classrooms" or CFT associate director Cynthia Brame's blog post "Structures for Flex Classrooms: Pros, Cons, and Pedagogical Tools."
You can also view the town hall on YouTube, which features Derek's presentation as well as a Q&A session with Mavis Schorn, professor of nursing and senior associate dean for academics in the School of Nursing, and André Christie-Mizell, professor of sociology and dean of undergraduate education in the College of Arts and Science.