Celebration of Learning Spotlight: Progress of Sustainable Fashion in Our Daily Lives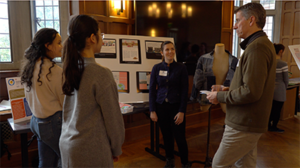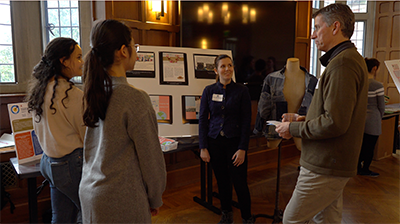 On February 13, 2020, the Center for Teaching held a Celebration of Learning, an exhibition of students as producers. The event featured students from all over campus sharing what they learned, created, designed, and discovered.
Madeline Repath, Angelica Park,  Mathilde Caindec's project was two parts: a sustainability guide and a reflection. Each team made a guide that encourages students and faculty on Vanderbilt's campus to make more sustainable choices in their everyday lives. Individual students then created a visual and written reflection on their progress throughout the class and the importance of crafting by hand.
They learned there are so many simple ways people can incorporate sustainability into their daily lives. The fashion industry is overflowing with practices dangerous to the environment and human lives, so it is crucial that these issues get noticed. The problem can be on a global scale (e.g., air and water pollution, unfair wages, environmental regulations) or an individual one (e.g., textile allergies, environmental beliefs, reducing personal waste).
The three students said this project was interesting because it connects to something we all wear every day—clothing. Madeline, Angleica, and Mathilde  believe in protecting the planet through conservation of resources, protection of wildlife, and reduction of greenhouse gas emissions, all of which connect to sustainable fashion.
Madeline said, "We were excited to put the tools to help aid these actions into the hands of students where they could learn and contribute to advocacy efforts in the areas they feel most passionate."
Students: Madeline Repath, Angelica Park & Mathilde Caindec                                    Faculty: Alexandra Sargent Capps                                                                                  Course: First-Year Writing Seminar – Sustainable Fashion