Spring Journal Club: Investigating Student Learning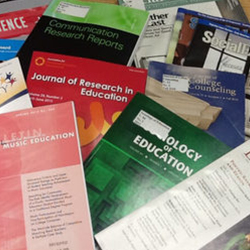 In this journal club we will explore different approaches that college instructors can use to investigate how and what our students are learning. We will discuss research articles that illustrate how a range of methods can be used to understand our teaching and our students' learning, considering benefits and limitations of the methods for answering our questions. We'll discuss opportunities for presenting and publishing our own investigations, considering the norms and practices common to both the SOTL (Scholarship of teaching and learning) and DBER (discipline-based education research) communities.
By the end of the year, participants will identify a research question they are interested in pursuing in their own teaching context and an approach they may use to answer that question.
We plan to meet twice monthly. If you REGISTER HERE by December 31, you'll receive an email in early January to solicit input about meeting times.
Open to faculty, staff, postdocs, and graduate students at Vanderbilt.