Two new internal funding programs to support classroom excellence announced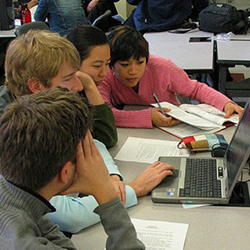 The Office of the Provost announces an additional two new internal funding programs, the Educational Advancement Fund and the Course Improvement Grant program, designed to support excellence in the classroom through continued pedagogical advancement and long-term educational transformation.
These provost-sponsored internal funding programs are managed by the Office of Faculty Affairs in collaboration with the Center for Teaching and join two research-focused programs announced in March—Seeding Success Grants and the Rapid Advancement Micro-grant Program (RAMP).
The Educational Advancement Fund will support longer-term educational transformations. The key criterion is that proposals promise long-term educational effects not only for the applicant, but also for the larger Vanderbilt teaching community. Proposals may request funding to support activities such as seminars or other initiatives aimed at implementing evidence-based teaching practices, research efforts to investigate the impact of new teaching approaches, or acquisition or development of materials that can support implementation efforts across multiple courses, course sections or programs. This grant will not support anything related to classroom technology that is currently within the scope of the provost–VUIT partnership. Proposals may be submitted by individuals or groups.
Course Improvement Grants aim to promote excellence in teaching within a single course or course section. Proposals may request funding to support activities such as acquiring or developing course-related materials and seminars and other programs to improve the quality of teaching, studies and experimental tests of new instructional methods and programs. Individuals or groups may submit proposals.
Interested faculty can submit applications online using InfoReady Review. The deadline to submit is May 21, with funds available beginning July 1. A second application period will begin in September 2021 with an Oct. 15 deadline and funds available on Dec. 1.
All full-time, VU-employed (provost-reporting) faculty are eligible regardless of tenure status.  Graduate students and postdocs are ineligible. Faculty may carry out the proposed project individually or in a team. Funds may not be used to support faculty salary or graduate student tuition. However, funds may be used to pay a graduate student for completing tasks related to the awarded grant.
Proposals should have a potential for impact at Vanderbilt and should demonstrate a commitment to teaching. Educational Advancement Fund awards must be used within 24 months after they are awarded, and Course Improvement Grants must be used within 12 months. Up to $500 may be requested for the Course Improvement Grants, and up to $2,500 may be requested for the Educational Advancement Fund. Successful applicants will participate in a CFT-supported learning community during their award period.
Visit the Educational Advancement Fund and Course Improvement Grants webpages for more information about the program, including eligibility standards, proposal requirements, funding guidelines and selection criteria. 
Any additional questions about these new programs can be directed to Cynthia Brame, associate director of the Center for Teaching.
.
.
.
.