Karl Smith: Engineering Education Research, Teaching as Design, & the Connected Mind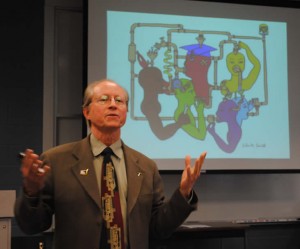 by CFT Assistant Director Derek Bruff
Last week, the Center for the Integration of Research, Teaching, and Learning (CIRTL) hosted a talk  by Karl Smith, Professor of Cooperative Learning in Engineering Education at Purdue University. Professor Smith's talk was titled "Studies at the Interface: Engineering Education Research and Engineering Education Innovation," and in the talk, he shared his own path into engineering education research and the state of the field today.
Karl Smith began his career as a researcher in the field of metallurgy. Each of his early projects involved theory (typically a mathematical model for a particular phenomenon), research (systematic experiments designed to generate data to test the theory), and practice (application of research results to industry). When he taught his first college class, however, he didn't experience the theory or research parts of this cycle–just the practice of teaching. This led him to investigate theories of teaching and learning and to begin to research those theories by collecting data on his students' learning. Smith soon became a leader in the cooperative learning movement, co-authoring the 1991 book Active Learning: Cooperation in the College Classroom (available at the CFT library).
In recent years, Smith has been very active in helping other engineering faculty members learn about cooperative learning and other research-based best teaching practices and approach their teaching as a design process. This summer, for instance, he's involved in the NSF-funded Conducting Rigorous Research in Engineering Education workshop at the Colorado School of Mines, a workshop designed to introduce engineering faculty to the practice of engineering education research. Smith is also involved in the creation of CLEERhub, the Collaboratory for Engineering Education Research, an online community for those engaged in engineering education research and those wishing to apply such research to their teaching practice.
These days, Smith also think a lot about how research-based best practices in teaching spread among faculty in higher education. As he spoke on this topic, I was reminded of the subtitle of the AAC&U conference I attended recently: "From Promising to Pervasive Practices." How do good ideas, like the use of cooperative learning in engineering education, become more pervasive? Smith talked about the work of Steven Johnson, author of Where Good Ideas Come From. Johnson argues that innovation thrives on connectivity, that good ideas emerge from the "collision" of little hunches that come from a variety of sources and take time to incubate. Watch this four-minute summary of Johnson's thesis, then ask yourself, When it comes to your teaching, in what ways do you have a "connected mind"?