Upcoming Event: A Conversation among Students and Faculty: Describing, Achieving, and Sustaining Deep Learning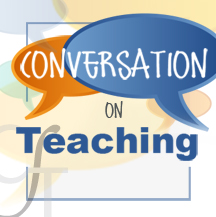 Join us for this upcoming Conversation on Teaching!
Date & Time:      Thursday, March 22, 4:10-5:30
Facilitator:           Milt Cox, Educational Consultant
Format:                Conversation on Teaching
Audience:           Faculty, Students (Undergraduate, Graduate and Professional Students), Post-docs, and Staff
Instructors want the students in their courses to engage in deep learning, learning that is meaningful and lasting.  Students want that, too, but they sometimes approach that goal cautiously, aware of the constraints on their time and a reward systems that often privileges grades over learning.  What then does deep learning in a course look like?  And how can it be achieved?  Join us for a conversation among instructors and students exploring these questions from our various perspectives.
This conversation is part of the CFT's ongoing work on the topic of student and instructor expectations for teaching and learning.  This conversation is intended as a roundtable and thus exploratory in nature. You may not leave with lots of concrete strategies for negotiating expectations, but you should take away a better understanding of the issues and challenges involved.