Mark your calendar & Spread the Word: Upcoming Events & Orientations
August Orientations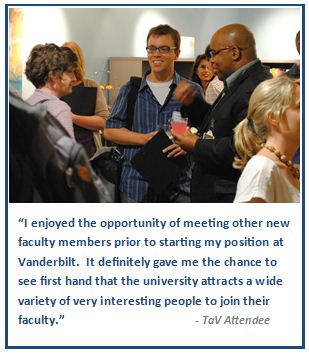 Teaching at Vanderbilt, (TaV) an orientation for junior and senior faculty new to Vanderbilt will be held from 3 to 5 p.m. on Wednesday, August 15th, 2012, at the CFT. Those interested in attending can RSVP by August 8th by Registering Online or by calling the Center for Teaching at (615) 322-7290.  CFT staff will be available for teaching consultations throughout the following week, and a series of hands-on workshops addressing a variety of teaching topics will be offered during the week, as well.
Teaching Assistant Orientation (TAO) will be held on August 16, 2012 in Buttrick Hall. TAO is intended for all graduate students who will begin teaching assistant (TA) duties during the 2012-13 school year. New Teaching Assistants should register for the event by August 13, 2012. Information about this event is also available on the CFT website.
Please spread the details about these two events to new faculty and new graduate students in your department.
Teaching Workshops Designed to Help You Prepare for Fall Courses
During the week before classes begin, the CFT will be offering these workshops for new and returning faculty: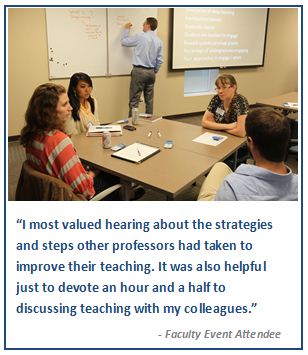 Effective Discussion Leading
Facilitator: Joe Bandy,  CFT Assistant Director
Date & Time: Friday, August 17 11:00am-1:00pm
This workshop will be held at the Center for Teaching and include lunch.
Register for this workshop
One of the defining yet most elusive goals of good teaching is to engage students in productive and engaging discussions.  To lead discussions effectively requires more than just knowledge of course content, but a wide array of abilities that include planning, emotional sensitivity, rapport-building, thoughtful questioning, dialogue management, appropriate interventions, thoughtful questioning, and many others.  Developing these abilities and balancing them creatively in the classroom makes discussion leading a complex and challenging task.  This interactive workshop will engage participants in dialogue about effective discussion leading strategies with guidance from the literature on teaching and learning in higher education.
Hands-on PowerPoint Clinic
Facilitator: Rhett McDaniel, CFT Educational Technologist
Date & Time: Monday, August 20 11:00am-1:00pm.
This workshop will be held in Stevenson Center, room 2200 and includes lunch
Register for this workshop
We have all experienced the pain of a bad PowerPoint presentation. And even though we promise ourselves never to make the same mistakes, we can still fall prey to similar PowerPoint traps.  The good news is that your PowerPoint presentation doesn't have to be boring. In this hands-on session, you will practice working with the slide master, importing and adjusting photos, adding audio and video, and creating appropriate slide transitions and animations. Come learn how to keep your PowerPoint slide shows visually appealing and interesting and make your classroom presentations stand above the crowd!
Effective and Efficient Grading
Facilitator: Nancy Chick, CFT Assistant Director
Date & Time: Tuesday, August 21 11:00am-1:00pm
This workshop will be held at the Center for Teaching and include lunch.
Register for this workshop
This workshop will focus on grading in ways that help students learn more deeply and save time for the instructor.  Participants will come away with strategies, resources, and tips for establishing grading criteria and rubrics for all types of assignments: class participation, essays and essay exams, oral presentations, group-work, and students' self-assessments.