Meet the CFT's HASTAC Scholar Zoe LeBlanc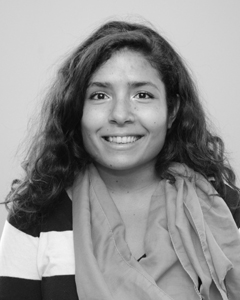 This year the CFT is proud to sponsor history doctoral student Zoe LeBlanc as a HASTAC Scholar. HASTAC (Humanities, Arts, Science, and Technology Advanced Collaboratory) is a global network of individuals and institutions that come together to share, collaborate, and learn through online forums, blogs, conferences, social media and other channels of communication. The HASTAC Scholars program is designed for graduate students who are engaged with innovative projects and research at the intersection of digital media and learning, 21st-century education, the digital humanities, and technology in the arts, humanities and sciences.
Zoe LeBlanc is a second year student in Vanderbilt's Department of History Doctoral Program.  Her research focuses on 20th century diplomatic history of the United States and Middle East, with a particular interest in the rise of Pan-Arabism and Pan-Africanism during the Cold War.  Zoe graduated from the University of Toronto in 2010 with her Honours Bachelor of Arts with high distinction.  Besides thinking about history and teaching, Zoe spends most of her time in Nashville sampling all the flavors of Jeni's Splendid Ice Cream, and telling her friends and family back in Canada about "Nashville Winters."
Zoe is one of four HASTAC scholars representing the Vanderbilt community, with others sponsored by the Center for Second Language Studies; the Curb Center for Art, Enterprise and Public Policy; and the Robert Penn Warren Center for the Humanities.  Zoe looks forward to working closely with the CFT to explore innovations in integrating technology into the humanities classroom, with a focus on exploring how humanities graduate students across the Vanderbilt campus use educational technologies.  She will be keeping a blog on the HASTAC Scholars site; see her recent posts on teaching with Prezi and Academic Book Writing Month ("AcBoWriMo").  You can also follow her on Twitter: @Zoe_LeBlanc.