CFT Hosts International Scholar Catherine Easton to Study Educational Technology
by Derek Bruff, CFT Director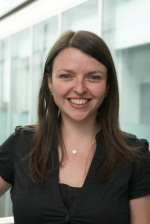 This year the CFT is hosting a visiting scholar, Catherine Easton of Lancaster University in the UK, where she teaches law. Catherine is in the United States as part of the International Scholars Program of the UK's Higher Education Academy (HEA).  She will explore how classroom response systems ("clickers") and related technologies are used in US classrooms, and share her findings with higher education colleagues in the UK.
From her bio on the HEA website:
Dr Catherine Easton teaches undergraduate and postgraduate law programmes.  She is the subject leader of a Level Six Cyber Law module and carries out subject-specific research in the area of information technology law.  Her pedagogical research examines the use of interactive technology in legal education and this was the focus of her final dissertation for her MA in Academic Practice. Catherine has presented conference papers in this area, given training sessions at law schools across the country and facilitated a workshop at the Scottish Legal Education Conference 2011.
Catherine has already met with several Vanderbilt faculty who teach using clickers and related technologies, and she's started blogging about her experiences at Vanderbilt on the HEA website. She's also interested in Vanderbilt's Coursera initiative, and she and I have started identifying some connections between the use of clickers in face-to-face classes and the use of multiple-choice questions embedded in the online lecture videos common on Coursera.
Catherine is heading back to the UK next week, but will return to Nashville for a second visit in the spring. If you're interested in talking with Catherine about clickers or BYOD (bring your own device) systems while she's on campus, please let me know.