Last Week's 'T.W.L.' Conversation on Teaching Writing: Low-Stakes, Written Reading Guides
Amanda Benson (Biological Sciences) talked about "Writing as Discovery: Using Low-Stakes Writing to Help Students Learn" on January 21. This lunchtime gathering was the fifth gathering in the "Teaching. Writing. Learning." series of conversations on teaching writing.
To start the conversation, Amanda acknowledged that writing can be intimidating to scientists–faculty and students alike. Her pedagogical response to this fear? Integrate plenty of low-stakes writing into her writing course.  Scientists ultimately must write persuasively–a common goal across academic writing (even if the written product looks different)–so she starts with models of persuasive writing from the field.  Students read fairly short science articles (e.g., this article from Nature), a fantastic learning experience for students of science. However, Amanda takes it a step further: she adds a weekly written assignment to guide the students' reading of scientific persuasive writing.  These guides help students identify and analyze the articles' persuasive moves that the students will then practice in their own writing. For example, the guide asks students to articulate the article's "main idea. (This is a thesis statement.)" and to identify specific pieces of evidence and how each supports the article's main idea, moves the students will apply in their own papers across the curriculum.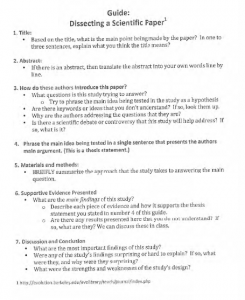 Students then bring their responses to class for a collective analysis of the article, pointing out its strengths and weaknesses as an example of persuasive writing.  Amanda finds this is useful in a few specific areas.  For instance, this meta-analysis helps students understand the importance of good, vivid, factual examples in their own writing. It also aids in highlighting the role of transitions between sentences and paragraphs, an element of writing that's a struggle for students–as well as veteran writers. [ahem!]
She doesn't grade the guides. Instead, in addition to helping students unpack models for their own writing, the guides serve as formative assessments.  They show her what the students understand (or don't) in the earlier phases of learning, and through their writing, the students also become more aware of what they understand (and don't).
After Amanda's brief opening remarks, those present discussed a variety of issues, including the task of using good examples and–critically–explaining how the example serves the larger argument.
For additional resources, including other handouts from Amanda, see the "Teaching. Writing. Learning" Research Guide.
For follow-up help, advice, or conversation, please contact us for the following types of consultations: