Graduate Fellow Wins Poster Award at Health Professions Education Research Day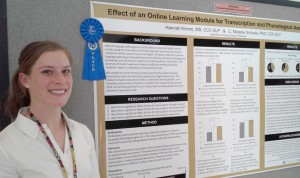 Hannah Krimm, PhD student in Hearing & Speech Sciences and a BOLD Fellow, recently received the Blue Ribbon Poster Award at the 2015 Gerald S. Gotterer Health Professions Education Research Day (HPERD).
Hannah's poster, entitled "Effect of an Online Learning Module for Transcription and Phonological Awareness," is based on the study and development of the learning module she completed with her mentor, Melanie C. Schuele, Associate Professor of Hearing & Speech Sciences, as part of the BOLD Fellows program.
Judges awarded Hannah the blue ribbon based on the poster's content/project design (e.g., clarity of writing, soundness of conclusions, potential impact on education) and on artistic design/impression (e.g., use of color, readability, overall visual attraction).
In reflecting on her project, Hannah explained that she chose this project because she believed her Hearing and Speech Sciences students could benefit from an online learning module. She explained, "the best way to address the persistent gap between research and clinical practice is to educate exceptional practitioners. In my field technology does not seem to be leveraged to its full potential for the purpose of pre-service and in-service education. I wanted to build blended and online learning into my skill set with the ultimate goal of using technology more effectively to make real changes in clinical practice that result in better outcomes for kids with speech, language, and literacy needs."
As part of the program, Hannah developed learning goals and objectives that helped her design assessment and instruction targeted at her learning goals. She explained that the BOLD program has also helped her revise other lesson plans: "The BOLD program really helped me to clarify the path from desired outcomes, to assessment, to instruction. It has informed my teaching and given me a framework with which to design courses. I have created some additional online learning modules to supplement assigned readings, and the feedback from students has been generally positive about this method."
When asked about her biggest takeaway, she stressed the importance of experimenting with educational technologies as a way to focus on student learning outcomes: "I knew we weren't using technology as effectively as we could, but I was surprised by everything that technology CAN do. It is amazing how much data you can collect on student learning to inform your teaching using online tools."
Congratulations to Hannah for this award!
You can learn more about Hannah's project and learning module on the BOLD website.