BOLD Fellow Presents at 2015 American Institute of Chemical Engineers Conference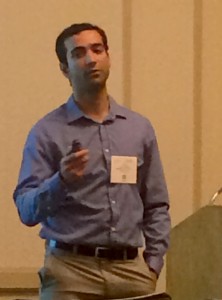 By Dani Picard, CFT Graduate Teaching Fellow
Faizan Zubair, a PhD student in Chemical Engineering and CFT BOLD Fellow, presented his research on an online instructional module at the 2015 American Institute of Chemical Engineers (AIChE) annual conference in Salt Lake City, Utah.
Faizan developed an online learning module on thermodynamic efficiency through the Center for Teaching's BOLD program with his faculty mentor Paul Laibinis, Professor of Chemical and Biomolecular Engineering. The project investigated the effectiveness of Kahn-style instructional videos in promoting student learning in an undergraduate Chemical Engineering course at Vanderbilt.
Faizan focused on three levels of student assessment. Formative assessments allowed him to determine which topics were most challenging to his students. Summative assessments evaluated the overall effectiveness of the new online methods. Finally, student perception surveys captured student attitudes towards the introduction of new teaching techniques.
Overall, the videos led to a significant increase in student performance, and students perceived the videos as helpful in reinforcing thermodynamic concepts.
"The development and application of interactive videos is an important addition to the traditional classroom," said Faizan. "It provides a permanent resource for students outside of class."
Faizan wanted to develop video modules in engineering courses because he found them useful in his own education in fields outside of engineering. "I was home-schooled for grades 9-12 in Pakistan. In addition to learning through books, I used MIT's OpenCourseWare for learning linear algebra and statistics. The availability of high quality educational material while I was in Pakistan made an impact in my learning. In addition, I used Khan Academy to learn about wide ranging topics including investment in stocks and the real estate market. Arguably, the best source of online education has been YouTube. Thus, I have benefited online education for as long as I have had access to the internet."
As an engineering student though, most of his instructional experiences were more traditional, including whiteboards, PowerPoint lectures, and in-class problem sets. Faizan chose to participate in the BOLD program because it offered him an opportunity to create online instructional tools and assess their impact on student learning – especially in engineering courses.
In reflecting upon his project, he is excited about the possibilities for future classes: "Now that I have experience with designing videos, I would be more comfortable using this tool in my future teaching. The project has provided me a framework to evaluate the effectiveness of new teaching methods."
You can learn more about Faizan's project and learning module on the BOLD website.