Teaching Writing Workshop Series in September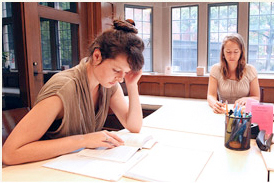 The Vanderbilt Writing Studio is offering The Teaching Writing Workshop Series. The workshops are geared toward supporting those who teach writing across the disciplines at Vanderbilt University, and workshops are open to faculty and graduate students from all departments.
Contact Megan Minarich at megan.l.minarich@vanderbilt.edu for details.
---
Fostering Writing and Collaboration in the Classroom
Thursday September 7
4-5:30 p.m.
1801 Edgehill Avenue, Room TBA
This workshop stems from the theories and practices of active and collaborative learning. Participants will learn about and practice techniques they can employ in their own classrooms to get students brainstorming, writing, revising, and working together on both individual and collaborative projects.
---
Responding to Student Writing
Tuesday 19 September
12-1:30 p.m.
1801 Edgehill Avenue, Room TBA
In this workshop, participants will explore some best practices for responding to their students' writing. We will discuss effective and generative ways of providing feedback in-person through conferences as well as through written feedback.