Teaching Writing Workshop Series: Responding to Student Writing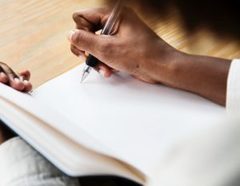 Over the course of the academic year, the Writing Studio leads a series of faculty workshops focused on different aspects of teaching writing.
Workshops provide participants with current research, strategies for best practices, and a forum for discussing how these approaches might be adapted to teaching writing in their disciplines. The Teaching Writing Workshop Series is open to all writing instructors.
Responding to Student Writing
September 18th, 11:00-12:30

Participants will explore some best practices for responding to their students' writing. We will discuss effective and generative ways of providing feedback in-person through conferences and written feedback.
Let us know you're coming!