Teaching Innovations at Vanderbilt: Heather Fedesco and Consulting Groups
By Faith Rovenolt, CFT undergraduate intern
During Spring 2020, the Teaching Innovations at Vanderbilt blog series will highlight teaching innovations that CFT staff have implemented and evaluated in their own courses.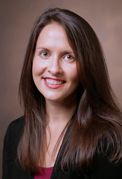 Most students can give an example from their own life from a group project gone wrong, but working in groups is often integral to many classes in college and builds an important set of skills. For students in Dr. Fedesco's HOD 1300: Small Group Behavior course, working in groups is not only a part of the class but the focus. Students form semester-long groups to work on presentations together and also to collect data on their own groups to understand group structure and processes. However, despite being in a class that teaches concepts and theory on group conflict, frustrations like any other class with group work still arise. To address this and also reinforce the course's content, Fedesco created consulting groups, in which students from different groups came to together to redress conflict.
Group conflict stems from interpersonal issues and inequalities in project contributions—real or perceived. That's why, after Fedesco's students gave their first group presentation and therefore had probably come upon some group frustrations, she had students from different presentation groups form consulting groups of three or four. These groups met three times throughout the semester to discuss group issues.
Fedesco stressed the professionalism and confidentiality of these groups. Students needed to be free to vent their frustrations safe with the knowledge that the information would not be shared beyond the group and without it devolving into gossip. These consulting groups therefore allowed students to:
Vent frustrations
Discuss problems and possible solutions
Hear feedback from other students
Examine other perspectives and possible alternative explanations for group issues
The groups also explicitly discussed perceptual bias to help students realize that their interpretations of group conflicts may not be objective. After each time the consulting groups met, Fedesco had students write out reflections on what was discussed and what solutions were presented. This not only ensures students spend at least some time taking the consulting group sessions to heart but also, because these reflections are submitted to Fedesco, helps uphold the professionalism of the groups.
Fedesco found that students seem to enjoy the consulting groups and group conflict might have lessened between the first semester she taught this class and the second when she implemented the consulting groups. These consulting groups not only address a class issue but help students directly apply and translate what they are learning in class. It gives students insight into other group dynamics and puts them in a realistic consultant role where they can offer advice to others. These all aid students in developing real-life skills to deal with group conflict, either their own or others'.
As a student, I think this is especially great as venting often happens anyway. Students will express their frustrations with a group project no matter what, but consulting groups make it a constructive process. Fedesco plans to implement consulting groups again in this course and would consider using them in a class not on group work as well. I think it would be great if other classes implemented consulting groups, whether it was directly related to course content or just if group work played a large role in the class. There are also several other practices that Fedesco and others use to help group work go smoothly, like group contracts and intentionally considering the composition of groups to break up cliques and consider who would work well together (see our post on Corbett Doyle's Group Work Promises for more). The only thing Fedesco might change is, instead of forming consulting groups of three or four, form groups of three when possible and pairs if necessary as she found that the smaller the group the better.