CFT Launches New Site to Help Instructors Develop Online Courses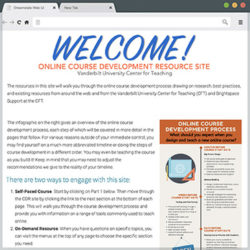 The Center for Teaching is excited to announce the Online Course Development Resources website. The site is designed to help faculty and other instructors design, teach, and revise their online courses, drawing on research, best practices, and existing resources from the Center for Teaching and around the web.
There are two ways to engage with the resources on the new site: as a self-paced course, in which the site walks you through the course development process and provides you with information on a range of tools commonly used to teach online, or as an on-demand resource for questions on specific topics.
The Center for Teaching is offering a variety of workshops and other events this August to help instructors prepare for adaptive teaching this fall. For faculty who can't fit these events into their schedule, or want to get started designing their fall courses right away, the Online Course Development Resources site will be invaluable.