Upcoming Conversations on Teaching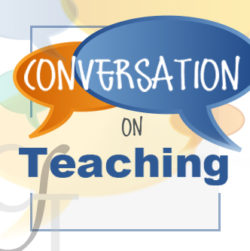 These sessions provide members of the Vanderbilt teaching community a chance to share their teaching experiences and learn from each other
in an informal, discussion-based format.
Leading Synchronous Online Discussions
This semester, many of you may have tried your hand at leading synchronous online discussions for the first time, most likely via Zoom. You may now be more comfortable using breakout rooms, collaborative documents, and other techniques to help your students contribute to class conversations. We want to hear about how things are going. Join us for an informal conversation about what's working and what's not when facilitating class discussions via Zoom. This will be a great opportunity to learn from others who have experimented with synchronous online discussions.

Date: Wednesday, October 7th
Time: 3-4pm
Location: Registrants will receive a Zoom link.
REGISTER

Testing Strategies in Hybrid and Online Classes
The move to hybrid and online teaching this year has prompted a shift in how we think about many aspects of our teaching. One area that can be particularly challenging is assessment, particularly in courses that rely on exams. In this Conversation on Teaching, four faculty will share the approaches they and their colleagues are using to test students in a fair and equitable way this fall, using these observations to kick off a larger conversation. Join us to share your experiences and to learn from other instructors about the successes, challenges, and opportunities of testing in our online and hybrid classes this fall.
Date: Thursday, October 15th
Time: 12-1pm
Location: Registrants will receive a Zoom link
REGISTER
Teaching during an Election Year
Election years can present many opportunities to educate students about the most pressing issues in our society, but it also is a time of heightened emotions and conflict, with many difficulties that arise for instructors across the disciplines.
This Conversation on Teaching will involve a discussion about the many opportunities and challenges of teaching during an election year, especially given the unique context and tone of this cycle, as well as what teaching approaches and techniques might prove most successful. This will be a broad ranging conversation that may touch upon many subjects, including pedagogies of civic and political engagement, affective dimensions of teaching, managing student conflict, trauma informed teaching, and critical pedagogy, among others.
Joining in the conversation will be David Lewis(Political Science), Gabriel Torres (Anthropology and American Studies), and Paul Stob (Communication Studies). 
Date: Thursday, October 15th
Time: 1-2:30pm
Location: Registrants will receive a Zoom link.
REGISTER