"We were doing all that hard work of helping students practice how to apply their knowledge together.": Thomas Clements and Kathy Friedman talk about their synchronous sessions in their Fall 2020 online course.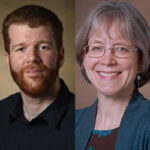 Thomas Clements and Kathy Friedman, both from Biological Sciences, recently joined Diana Heney and Jessica Watkins for a Conversation on Teaching about their approaches to synchronous sessions in online courses. You can see the recording of the entire session here.
In the clip below, Thomas and Kathy describe the role that undergraduate learning assistants (LAs) played in their online, high enrollment course this fall. They describe the effects that they observed from LA involvement in a face-to-face version of the course in Fall 2019 and how they adapted for the online setting this fall.
They flipped their course, pre-recording video lectures and developing handouts for students to complete before class.
Each LA had their own Zoom call for the synchronous class period, allowing them to have all the features of Zoom. The LAs would lead the students in their group through a discussion centered around the handouts and questions students submitted before class.
Thomas, Kathy, and their TA would drop into the different LA groups throughout the class period.
The effects were very positive; they observed that having LAs increased students sense of belonging and increased students' value for the course.
Watch this short clip from Thomas Clements and Kathy Friedman
.
.
.