Digital Presence: Academic Podcasting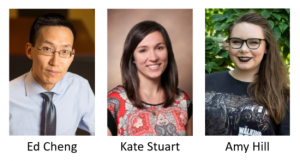 Why start a podcast as an academic? In this "Digital Presence" panel, we will learn about three academic podcasts, each with a different mission and audience.
Law professor Ed Cheng is the producer of Excited Utterance, a long-running podcast featuring interviews with scholars in his research area (evidence and proof).
Kate Stuart produces the Beyond the Lab podcast and YouTube series for the Office of Career Development at the School of Medicine, featuring biomedical sciences PhD and postdoc alumni discussing their careers.
Amy Hill is a doctoral student who serves as teaching assistant and digital projects coordinator for the spring 2021 course, Monuments and Memory, whose students produced a class podcast, Now This Is Monumental!
Join us to hear the origin stories of these three podcasts and to learn why and how you might start a podcast to advance your scholarship, teaching, or disciplinary service.
Date: Thursday, October 7
Time: 3:00pm to 4:00pm
Location: A Zoom link will be emailed to registrants in advance of the event.
Open to Vanderbilt faculty, staff, postdocs, and students.
---
.
.
.
.
.