Teaching Difference, and Power Symposium: Class Matters
This event took place on April 25th, 2017.
Among the greatest challenges facing higher education is that of creating diverse and democratic campus cultures that seek to confront, rather than replicate, social inequalities. One of the most challenging inequalities to confront is that of social class, since it shapes all of our lives in profound and often uncomfortable ways. Class touches every aspect of campus life – its history, its social life, and especially its teaching and learning.
On April 25, 2017, the CFT hosted a Teaching, Difference, and Power symposium focused on the ways teaching and learning can be shaped or challenged by social class.  This was as an event to celebrate and extend discussions that took place over the Fall and Spring of a CFT learning community on social class.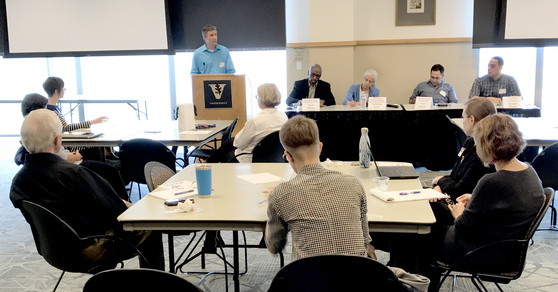 About thirty participants listened to several speakers before engaging in a broad discussion. Sharon Shields, Professor of the Practice (Human and Organizational Development) and Associate Dean for Professional Education (Peabody College), kicked off the event by sharing some of the challenges that lower income students face in the classroom and in campus culture. Frank Dobson (Associate Dean of Students) then spoke to the ways class is often an invisible but powerful force in campus life that needs more careful discussion by all members of the community. Richard Blissett (co-leader of Crucial Conversations and PHD Candidate in LPO) focused on the difficulties of talking about class, the experiences of lower income graduate students, and their needs for respect and empowerment. Paul Kramer (Associate Professor of History) offered many theoretically grounded and innovative pedagogical methods for teaching the subject of class. And lastly, Catherine Fuchs (Director of the Psychological and Counseling Center) touched on the ways in which stresses related to social class amplify student mental health problems.
The participants then had wide-ranging interchange about the ways in which class differences and conflicts manifest in campus life and the strategies by which Vanderbilt's staff and faculty can create a more class conscious and inclusive culture. They discussed ways to address a variety of related student issues including stereotype threat, impostor syndrome, financial deficits/needs, stresses, elusive belonging, first generation experiences, and many others. One overarching conclusion was that Vanderbilt, and higher education in general, can benefit from a more critical and thoroughgoing class analysis of all aspects of campus life. place over the Fall and Spring of a CFT learning community on social class.
"Coming to Vanderbilt was a culture shock"
-Harry Lopez, '12

"We had no idea what was waiting for us on the other end,"
-Shirley M. Collado, '94, and member of the Vanderbilt Board of Trust

"Nobody else in my family had attended college, much less studied astrophysics…. Now I study black holes for a living, and am so lucky and happy to finally be here, but I do also feel like an imposter."
-Kelley Holley-Bockelmann, Assistant Professor of Physics and Astronomy
2017 Symposium Agenda
1:45-2:00 Check-In
2:00-2:35 Introduction & Context
Welcome & Introductions


Joe Bandy
Assistant Director, Vanderbilt Center for Teaching
---
Opening Remarks

Dr. Sharon Shields, Professor of the Practice in the Department of Human & Organizational Development, and Associate Dean for Professional Education, has nearly forty years of experience at Vanderbilt and has long been an astute observer of dynamics of social class on campus. Drawing on her extensive experience with undergraduates, graduate students, and faculty in a variety of roles, Dr. Shields will discuss lower income students' feelings of invisibility and discrimination in the classroom, perceptions of student life, and ideas about what the university administration can do to support and empower lower income students at Vanderbilt.
2:35-3:20 Campus Conversations
Faculty, students, and staff across campus are engaged in a variety of discussions and activities exploring the intersections of teaching, difference, and power. During this panel discussion representatives from student groups and academic programs will share some of the ways they have been working to foster important conversations on difference and power at Vanderbilt.
Vanderbilt Psychological & Counseling Center (PCC)

Catherine Fuchs
MD, Director of the PCC
---
Crucial Conversations
Richard Blissett
PhD student of Education Leadership & Policy Studies, Peabody College
---
Vanderbilt Dean of Students

Frank Dobson
Associate Dean of Students and Director of the Bishop Joseph Johnson Black Cultural Center
---
History

Paul Kramer
Associate Professor of History
---
3:20-4:05 What's Next?
Following the panel discussion, the CFT invites the campus community to discuss steps we can take together to develop a more inclusive, equitable, and critical environment for teaching and learning.
4:05-4:35 Reception
---
Additional resources on the topic

Videos
Teaching guides