Sustainability in the Classroom Events for Fall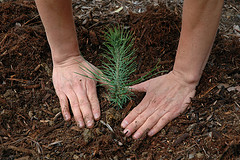 The CFT is proud to be a part of two exciting upcoming events that address issues of environmental sustainability in the curriculum.
First, on World Environment Day, Wednesday, October 20th, from 4:10 to 5:30pm in the CFT workshop space, the CFT will host a conversation entitled, "Sustainability in the Classroom: Ecological Footprints."  Andrea George of Vanderbilt's Sustainability and Environmental Management Office will be our featured speaker and will discuss new results from Vanderbilt's Greenhouse Gas Emissions Survey. She will be joined by Michael Vandenbergh (Law School) and Beth Conklin (Anthropology) who will help to begin a discussion about the use of "ecological footprints" as a teaching tool.
Ecological footprints are broad measures of natural resource use and waste that provide educators with opportunities to teach a wide variety of lessons across the disciplines.  We hope you can join us and participate in a lively discussion of the opportunities and challenges of using footprints in the classroom.
Register for Sustainability in the Classroom: Ecological Footprints.
Second, on November 12th, from 8:30am to 4pm in the Wyatt Center on the Peabody Campus, the CFT and the Tennessee Higher Education Sustainability Association (THESA) will co-host a one-day workshop on integrating service learning and sustainability education. Civic engagement is at the heart of both service learning and sustainability, and community-based teaching has the potential to expand our conceptions of environment and environmentalism in important directions.  The purpose of the workshop will be to illustrate how this engagement can be fostered, building stronger bonds between the campus and the city.
Speakers will include Nashville Mayor Karl Dean, Douglas Perkins (Vanderbilt's Human and Organizational Development), Laurel Creech (Chief Service Officer, Nashville Metropolitan Government), Christopher Bowles (Director, Office of Environment and Sustainability, Nashville Metropolitan Government), Deena Sue Fuller (Executive Director, Center for Service Learning and Civic Engagement, TSU), and David Padgett (History, TSU).  In addition to speakers, the workshop will offer interactive break-out sessions for participants to share resources and experiences, brainstorm new projects, establish connections, and explore future collaborations.
Image: "Seedling Planting" by USFS Region 5, Creative Commons licensed.