CFT's 25th Anniversary Events… Will you be there?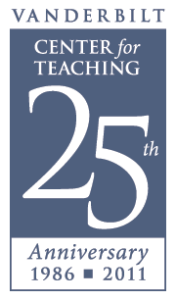 Join us in the celebrations of the Center for Teaching's 25th anniversary in just a couple of weeks – September 8 and 9.
To kick the celebration off, we're hosting a keynote talk by Ken Bain, founding director of the Center and author of What the Best College Teachers Do, on September 8th, with opening remarks by Chancellor Zeppos. Bain's keynote How to Foster Deep Learning will address how we create learning environments that will have a sustained, substantial, and positive influence on the way our students will subsequently think, act, and feel.  In this highly interactive session, Ken Bain will explore the results and implications of a fifteen-year study of highly successful university educators, people who have achieved extraordinary success in fostering remarkable learning among their students. Bain's keynote will be followed by a champagne reception. This event will be held in the Board of Trust room in the Student Life Center at 4pm. RSVP for this event.
Then on the 9th, we're hosting a half-day symposium looking ahead to the future of teaching at Vanderbilt, featuring faculty panelists Cecelia Tichi, Cynthia Paschal, and Marshall Eakin.
Faculty, students, and staff are invited to discuss a set of themes the CFT has identified as likely to affect teaching and learning at Vanderbilt over the next five years: economic challenges, changing technologies, and social responsibilities. Opening remarks by our faculty panelists begin at 9:10. Breakout discussions of the three themes will be held at 10:10 and again at 11:10. Lunch and closing remarks by our faculty panelist as well as keynote speaker Ken Bain begins at 12:10.  Faculty, students, and staff are welcome to attend all the sessions or drop in for an hour or two as they are available. RSVP for this event.
More information about our 25th Anniversary events is available on our website.
We hope you'll be able to attend at least one of our 25th anniversary events.  If you'll be attending either event, please send us a quick RSVP.