Registration Open for Fall Events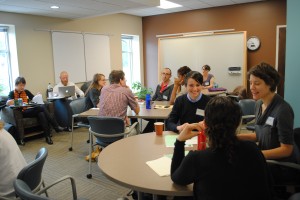 Register now for upcoming events offered by the CFT. Designed to help you get ready to return to the classroom, these interactive teaching workshops and thought-provoking conversations on teaching will cover a variety of relevant topics to help faculty, staff, and graduate student teaching assistants achieve their goal of facilitating student learning.
Just-in-Time Course Design: A Syllabus Clinic for New and Returning Faculty
Thursday, August 18
11:00-1:00pm
PowerPoint Makeover Clinic for New and Returning Faculty
Friday, August 19
11:00-1:00pm
Presenting with Confidence
Tuesday, September 20
4:10-5:30pm
Teaching with Case Studies
Thursday, September 22
4:10-5:30pm
Leading Effective Discussions
Thursday, September 29
4:10-5:30pm
Writing a Teaching Statement
Tuesday, October 11
4:10-5:30pm
Teaching Laboratory Classes
Wednesday, October 26
4:10-5:30pm
In addition to these topics, two events facilitated by the CFT will be conversations around Managing Student Expectations. These events invite students, faculty, and staff to have an exploratory conversation regarding issues and challenges involved with expectations in the classroom.
A Conversation on Student and Faculty Expectations for Writing
Tuesday, September 27
4:10-5:30
Student Expectations: Academic Technology
Thursday, October 27
4:10-5:30
Detailed descriptions of these events can be found online at the Center for Teaching's event page.